As of May 28, 2013, I am currently not doing any custom designs at this time.
Are

you

interested in having your own

customized blog design

?
Don't

want to pay an

arm and a leg

to get what you want?
I am now offering my design services to my fellow bloggers!
Now, I'm pretty good with Photoshop and HTML, but I'm no expert, so keep this in mind :)
I will help customize your blog with any design elements you'd like and that I'm familiar with. What does this include?
Blog Background
Blog Header
Any Blog Buttons you'd like
Navigation Bar
Post Signature
Titles and Dates Font Installation
Anything else you'd like that you've seen? Let me know and I'll see what I can do :)
Currently I can only customize blogs for Blogger.
How does the process work?
First, email me with what you were wanting!
EMAIL: notsohomemade@gmail.com
Be sure to use this email and not the one associated with my blogger account. That's my personal email and sometimes things get overlooked :)
Here are things I like to know:
What design elements did you want (see above for list)?

What layout do you want? 1 sidebar, 2 sidebars, see the Template Designer under Design for more lists.

Do you have a particular design in mind already? This is GREAT because it takes the guesswork out of me trying to figure out what you'd like :)

What colors do you want to include?

What patterns do you like? (Ex.- stripes, plaid, polka dots, damask, or even no pattern and just a color)

Any pictures you want used need to be attached in an email to me. Make sure they're high quality!


Any other things I should know about what you want?
Once you've contacted me, I'll email you back and let you know if I'll be able to complete what you want. Depending on my workload, you may have to wait a little. I am a recent college graduate so I'm just getting started in the work field and I'll probably be really busy most of the time.
***I reserve the right to refuse to create a design if it contains any obscenity, conflicts with my morals/beliefs, or for any other reason I deem necessary****
Ok, now that I've got the negative news out of the way...
I'll usually start with the background. I've found it's a good ground work place to begin. I'll email you with a few ideas. Once we get that started, I have a test blog where you can view the changes and determine what you like.
From there, things just fall into place :) The whole process can take from a few days to a few weeks depending on my schedule and your schedule. Communication is via email so it's really important to check your email several times a day! Sometimes it may be a day or so before I get back to you (with school and all- because that comes FIRST). Sometimes, I'm so antsy to create something new for you I'm obsessively checking my email!
I'll email you regularly with updates and feedback. ****PLEASE do not feel bad about telling me if you don't like something! I'd rather you'd tell me what you want changed then for you to be unhappy with the design! But be nice when you tell me... Don't be all, "Yo, I hate it fool! Fix it or else!" Not that any of you would be that mean :)

And again, I can't stress enough how much easier my job is if you know what you want! Draw it up on a piece of paper or Paint and email it to me! Describe in detail!

Also, I have to draw a line with the number of times I re-do something. Please remember that I'm trying to offer this at really low prices. I'm really not trying to be mean about it, but it really frustrating if I have to constantly re-do some element because you keep changing your mind or something. So I will allow a maximum of 5 re-designs for each element.
Note: I often use fonts and stuff found from kevinandamanda.com so check it out if you want a particular font! They have an AMAZING selection! I LOVE their site!

So how do you get it from the test blog to your blog?
A
dd me as an author on your blog (Under Settings-Permissions). Once I confirm, you'll have to grant me admin privileges (on that same Permissions page). I won't have any of your login information. Then I'll go in and change the design. After we're finished, you just remove me as an admin!
Keep in mind...Creating a custom design requires a lot of my time and energy :) And many sites charge around $100 and up for blog makeovers!
I am open to a trades. (I know, getting really old-school, Pilgrim-Style)
When you first email me, we can work something out.
Maybe you make some wicked awesome headbands (I love headbands) or beautiful jewelry... Maybe you make some other AMAZING stuff... I do have a PayPal account if you would really rather do that, although there's a processing fee through there. My dad also suggested paying with an Amazon gift card... which is a GREAT idea because I LOVE Amazon!
I worked up a cost sheet, based on the amount of time each aspect requires, comparing prices to other design sites. Then I lowered the prices A BUNCH because I want to offer low prices... I know these things can get pricey and I want to be able to help out others. Some of the blog design sites I checked out charged $150, $200 for a full makeover and that's just a crazy price to pay if you don't have a ton of money to spend!
So I tried to keep things reasonable...
Here's some prices I've worked up:
-->
Buttons $5.00 each
Backgrounds $8.00
Headers $10.00
Navigation Bar $15.00
Signature $3.00

Social Icons (FB, Twitter, etc) $1.00 each
Custom Font Titles/Dates $12.00

Numbered Comments (plain) $8.00

Numbered Comments (designed) $10.00

Etsy Banner $8.00


SAVE WITH PACKAGES :)

Mini Package ----- $20.00
-Includes a Background, a Header, a Signature, and up to 2 Buttons

Full Package ----- $40.00
- Includes a Background, a Header, a Navigation Bar, a Signature, Custom Fonts, Up to 3 Buttons

Ultimate Package ----- $60.00
- Includes everything in the Full Package PLUS numbered comments, as many buttons as you'd like,
as many social icons as you need, an Etsy banner and button.
Prices subject to change. Most recent changes, effective April 13, 2011.




Have something else in mind? Let me know what you want and I'll give you an estimate!





I know this is unusual, but I'll hold off on any payments until after your design is finished, but before installation. I want you to be happy first! So this is all based on the honor system :)
I do ask that once we are finished, that you would write a quick post sharing where you got your design :) That way, others can find out about it too!
Grab a button and share with others if you have a design by me :)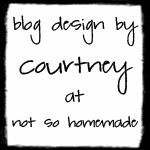 Want to see some of my work? And check out some AMAZING blogs while you're at it?
First, you're seeing some of my own work if you're at my blog! I created my own design!
Click on the images to view their blog...
Others...
Tiffany Paige Photography

- Navigation Bar and a few other tweaks