If you don't follow
LMM
, then we are no longer friends.
I'm just kidding.
I won't defriend you.
But you should definitely
check her out!
She has great
recipes
,
tutorials
, and straight up REAL
stories
about being a momma.
Plus she has one of the stinkin' cutest kids ever.
Seriously, the BFF Nichole and I talk about her like we actually know her.
'Cept we usually just refer to her as Little Miss Momma.
Even though we know her name.
"Hey, did you see what LMM wrote the other day?"
"I totally want that necklace LMM wore."
It just feels right to call her LMM.
She is THE LMM.
Ok now that I sound like a complete stalker.
I promise I'm not a creeper, Ashley (aka
LMM
)!
Anyways... I saw the
cookies
and knew I had to try them.
Here's her
cookies
: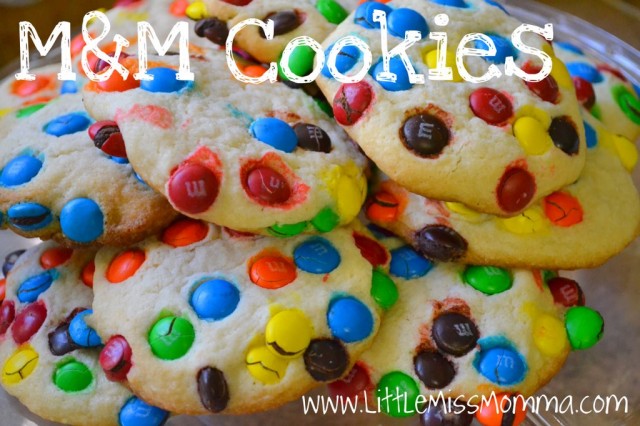 I started buying the stuff for it but didn't make them until a few weeks ago.
The
recipe
is actually from
LMM
's Momma.
And MY momma helped me make them!
You can find the recipe
HERE
.
I pretty much followed the
recipe
exactly.
Only I undercooked my just a tad.
Cause all cookies are best that way!
Here are my pictures...
All ready to go in the oven!
Don't think I didn't go, "M&M for the cookie, M&M for me!"
So yummy!
I had originally gotten some Peanut Butter M&M's to try too.
Sadly, they did not make it to cooking day.
They met their maker.
My stomach.
I kinda have an addiction to them.
I used to LOVE crispy M&Ms.
But you can't find those anymore.
Dumb.
Nice and cooked :)
So warm and delicious!
I also added just some chocolate chips to the sugar cookie dough.
And I went really crazy and did chocolate chips AND M&Ms.
I know... amazing huh?
I LOVED
these M&M cookies
!
So delicious, ESPECIALLY hot and fresh out the oven with a tall glass of cold milk!
The hot M&Ms MELTED in your mouth!
I think next time I make these I might use mini M&Ms too!
And maybe the Peanut Butter M&Ms will make it :)
Ok now for 3 AMAZING recipes that were shared last week!
Look at these
BBQ Chicken Sandwiches
using leftover rotisserie chicken over at
Cook Lisa Cook
!
I LOVE the idea of coleslaw on them too... must do next time!
Holy cow! These
Cheddar Jalapeno Mashed Potatoes
over at
Small Town Life
look AMAZING!
I love mashed 'taters and always like trying a new twist!
Ok, so I like sushi, but have no clue how to even start to make it at home.
But fear not... Amie, over at
Kitty Cats and Airplanes
has the solution with her
"make your own sushi" tutorial!

Now.... It's time to see what
you
have been
cooking
up lately!
Add as many recipes as you'd like!
Look for
featured
ones next week too!
Your recipe
could be a
favorite
!
Grab the

NEW

button
and share with others!