So some friends and I went to
IHOP
last night.
I decided to try the
Cinn-a-Stack Pancakes.
Um...
HELLO
???
WHERE HAVE YOU BEEN ALL MY LIFE???

Seriously.
Best.
Pancake.
EVER!
Everyone was tasting them off my plate!
They were SO
DELICIOUS
!
I scarfed too much down before I decided to take a photo but here's a pic of one of my last bites...
I think I'm starting to drool just thinking about how
AMAZING
it was!
It was very sweet, but not too sweet.
The cinnamon and icing were
PERFECT
.
It reminded me
EXACTLY
of a
cinnamon roll!
And while I'm not always a fan of whipped topping, it was a nice
cool
texture as well!
So since I can't eat out at IHOP every day, I had to browse the web for similar recipes!
I've had
this one
from
Recipe Girl
pinned on my
Pinterest
for a while now.
She blends the cinnamon right into the pancakes and tops with a cream cheese icing.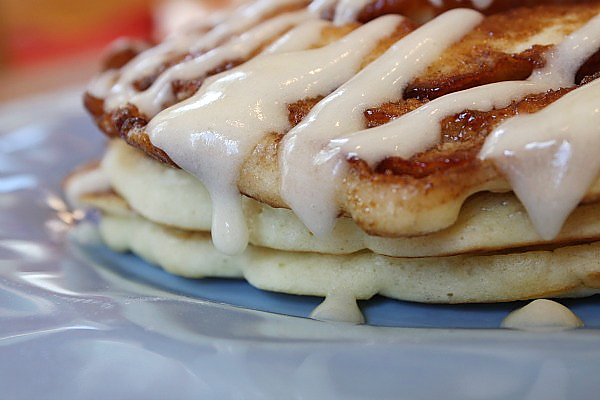 Another recipe
I found is over at
Divas Can Cook
.
She even has a
video
tutorial on how to make the pancakes!
Over at
Tastebook.com
is a
nice clone of the IHOP pancakes
!
It gives you a recipe for the cinnamon sauce and cream cheese glaze that you can put on pancakes, french toast, or whatever you want!
I bet it would be great with crepes!
Found
this recipe
too over at
The Pink Hamster
.
She just does a cinnamon drizzle between the pancakes... looks GOOD!
And lastly... a
healthier version
over at
Hungry Girl
.
And while I'm always skeptical of healthier options (because they often lose taste)...
This one looks pretty legit!
I can't wait to try out some of these recipes!
You should too!
But you should also get the
real deal.
Because. It. Is.
AWESOME
!