So if you caught my last post about my birthday, you'll know I spent the entire weekend chaperoning a youth trip with my church.
I'm exhausted!
Those kids have
SO much energy
! I'm 22 and they still wore me out!
But it was a really great weekend :)
Anyways, that being said, I have
NO
energy for a feature today... can ya blame me?
I do want to mention that we are up to
18 fans on facebook
! Let's make it
25 :)
Then I can get a "real" page on facebook... become a big girl. Like all facebook.com/notsohomeade. Let's make it a goal!

So come be a Facebook fan of Not So Homemade!
I am going to add the Spotlight Sunday blog hop.
So, my friends, go forth and MEET people :)
Now for this week's Spotlight Sunday! You don't have to link to anything in particular... just share your amazing blog with us :)



Add your blog to the list! Be sure to check out other blogs and leave them some comments or even become a new follower! (We all love comments and new followers right?)

Please....

Be sure to

add the

button

to your blog so others can join in on the fun!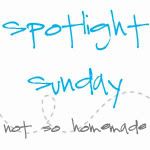 Want to add the blog hop to your blog?