What?
Huh?
Me?
Oh. Yeah. Again, I'm sorry! I seem to have these stretches where I go off the map for a couple of days. Or weeks. I feel like I use the "I'm working" excuse too much :( But I really am working! I promise!
But anyways, back on track Courtney! I'm SOOOO excited to introduce you guys to Ashley from over at
Whimsy Bits
! I L.O.V.E. her blog! She is A-MAZ-ING! Ok, but enough from me! Ashley is going to introduce herself a little more and share an AWESOME tutorial with you guys :)
hello not so homemade fans! i'm ashley and pleased to meet cha!
before i show you my ah-may-zing-transformation/tutorial, i want to give a big xoxo to courtney for having me here! this gal is awesome and so talented and i'm privileged to call her my bloggy friend! so, thanks courtney!
here's what you should know about me; i'm a twenty something crafting, sewing, creating fool! i love my famiy and friends and my dog dallas more than anything in the world. i'm a texas gal living in kentucky, for now, trying to become a teacher while i nanny two adorable little girls. i started blogging as a way to keep in touch with my fam but it's grown into so much more. now i love to write, create, meet new people and read other blogs. i've also started making things for my family and friends and opened an etsy shop. i'm still small time but i LOVE my life!
ok, now to the good stuff...
sometime in february i got this cart for FREE!! i love free stuff, don't you?!
anywho, i took my sweet time (about 6 weeks!) figuring out what to do with it, and came up with this...
see that ugly blue and those gold wheels? yuck.
then sprayed it with blue ocean breeze (my new spray paint addiction).
next it was time for those wheels to get a little makeover. i used basic black spray paint on those babies!
i could've stopped there but i wanted a little more pizzaz!
so i bought this great black and white striped fabric.
i sewed a ribbon in coordinating colors to hide the raw edges at the bottom.
then i used hot glue and felt to add some pink strings to tie up the panels.
here's a pic of the finished panel down.
and here's my cart all loaded up with crafty stuff and fabric!
i loved doing this project and once i got started it didn't take me too long to finish. maybe four hours total and since the cart was free and i had the spray paint i only spent about $20.
thanks so much for having me and please don't hesitate to come on over to my blog and take a look around. i love making new friends, and i don't bite!
_____________________________________________________________________________
I LOVE how cute that turned out! Ashley, you are SO TALENTED! Here's a few more things I sorta have a crush on over at Whimsy Bits :)


This tiered serving tray is SO easy to make and SUPER CUTE!


I love how this tote bag turned out! A great way to spice up any big :)


And... she cooks! Mmmm... Oatmeal Chocolate Chip cookies!


And if you haven't checked out her etsy shop Whimsy Bits by Ash, you are truly missing out! She has some AMAZING stuff at AWESOME prices! Her bib necklaces are SO CUTE!


So I hope you'll stop by Whimsy Bits and say hello to Ashley! And go ahead and click Follow at the top of the page. You know you want to :) Because, seriously, you don't want to miss ANYTHING!


Now for this week's Spotlight Sunday! You don't have to link to anything in particular... just share your amazing blog with us :)


Add your blog to the list! Be sure to check out other blogs and leave them some comments or even become a new follower! (We all love comments and new followers right?)

Please....

Be sure to

add the

button

to your blog so others can join in on the fun!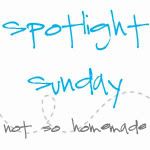 Want to add the blog hop to your blog?
Check out these fun cupcake cards over at Stuck on a Cloud! So cute! Great to have on hand for any birthday occasion :)