What? Huh? Me? Oh yea. I've been REALLY MIA lately. I feel like all I do is work and sleep sometimes. All of you "been-working-for-a-long-time"ers out there are probably saying, "Welcome to the real world". But I haven't forgotten about you guys out there!
And today, I'm SUPER EXCITED for you guys to meet Katie from Something About Katie! I LOVE her blog! She has some AMAZINGLY awesome ideas! So everyone... meet Katie :)
Hello fellow bloggers! I am Katie from the blog
Something About Katie
. I joined the blogging world in Febuary of 2008 for our family blog. Then I got pregnant with my second child which happened to be a girl. I started looking around at all the cute craft blogs out there and got hooked. I bought my sewing machine a little over a year ago and the rest is history! I got REALLY hooked the first time I made a purse. I LOVE making purses! I started my blog Something About Katie back in April 2009 because I figured my friends and family were sick of seeing blogs with new things I had sewed on them and not some cute little story about my son and something funny he had done. That is why I named it Something About Katie because it was for JUST ME! Not my family. I try to stay true to that and have it be about anything I want it to be.
Here is a picture of me and my son from two weeks ago at the play ground.
He keeps me on my toes! I love him. I also have my darling daughter Kayla
Don't let the sweet sleepy picture fool you. She is a BEAR! She is also sweet and cuddly. I love her too! I first started sewing and making hair clips for her. I have never been a girly girl. I love cheetah print stuff and skull and cross bones. I also love owls! I feel a little cheated because my friend Myra and I started collecting owl stuff back in 2000 or so WAAAAAAAY before anyone else was hooked on Owls. That was back when the only place you could find owl stuff was the thrift store from the 1970's. I do feel cheated but at the same time I am HAPPY owl stuff is so popular because I can get it almost any where now.
One of my favorite things to do is to repurpose stuff. I recently had a whole week of repurposing things. One of my favorite things I did was this shirt to dress refashion for my daughter
I love the way this turned out! As I mentioned before I LOVE making purses. Here is one I did during my repurposing week made out of an ACU jacket
I also love to try and find new recipes for making things most people don't think about making things like deodorant. Here is a REALLY easy recipe for
natural deodorant
that works MUCH better then store bought kind and doesn't have all of the nasty ingredients that could be hazardous to your health! Another passion in life for me is photography. I have a photography blog called
Katie's Clicks
that I try and update regularly. It depends on if I have a photo shoot or not. I recently moved from Texas to California and I don't have clients here yet. Hopefully soon I might be able to get some photo shoots set up.
I recently just opened a esty site as well. It's kind of been a hodge podge of things. Hair clips, wallets, purses and other accessories. Go check it out
HERE
and see what I have there. Also, if you really love photography and putting pictures on the walls of your home, check out my other etsy site
HERE
I have an enormous printer that prints on photo paper and canvas! Our etsy site offers YOU the opportunity to put your pictures on canvas for pretty cheap! My goal with the store was so that everyone can put canvas prints on their wall without breaking the bank!
Thank you Courtney for letting me crash your blog! It was my first time being a spot lighted blog and I really appreciate it and thank you to all of the Not So Homemade readers! Y'all Rock!
____________________________________________________________________
I'm telling you guys, Katie is one TALENTED chick! You won't want to miss a thing she has to share! Here's a few of my favorite things I've seen recently over at Something About Katie.
This wallet is SO adorable! I'm not very good at sewing, but her instructions are SUPER easy to follow!
And this skirt to apron is absolutely TOO CUTE! What a great way to repurpose an old skirt!
So be sure to head on over to Something About Katie! You won't be disappointed!



Now for today's Spotlight Sunday Bloghop...




Add your blog to the list! Be sure to check out other blogs and leave them some comments or even become a new follower! (We all love comments and new followers right?)

Please....

Be sure to

add the

button

to your blog so others can join in on the fun!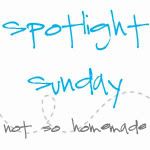 Want to add the blog hop to your blog?
Looking for some CUTE St. Patrick's Day cards? Check out these fun ones over at Stuck on a Cloud!