It's our first Spotlight Sunday of February 2011 :) And who better to meet than Sarah from Scissors and a Whisk! Sarah is SO SUPER SWEET! I got to meet her through helping with a blog design (that's coming really soon so be sure to watch out for it- she has a great idea in mind and I can't wait until it's all put together!) and I absolutely LOVE her blog. But enough talking from me... Meet Sarah :)


Hello fellow Not So Homemaders!! I'm Sarah from Scissors and a Whisk. Pleased to meetcha!

Courtney was sweet enough to ask me if I would be interested in participating in her Sunday Spotlight. Ummm... Is that a serious question?! So here I am.
I graduated from college this past May, and Matt proposed to me a week after that. I could *not* be happier with the direction my life is headed.
I began blogging because I saw others blogging in a journal-y fashion, and I wanted to jump right in! I absolutely love baking and crafting, so this was a way to keep track of my ideas, inspiration, and completed projects. Close family and friends were keeping track, and it grew from there. I totally love the blogging community and the sweet comments of my blog buddies. I love feeling as though I have amigos all over the world!


The name scissors Scissors and a Whisk came from the fact that I love crafting and baking, and those are the utensils I use most. I tried various things like "KitchenAid Mixer and Tape," and "Glue and Cookie Sheet" but those didn't exactly work. Scissors and a Whisk has a nice ring to it and many possibilities!


Scissors and a Whisk contains mostly baking and crafting adventures, but I also document more personal things. I like to do product reviews, giveaways, and let y'all know what goes on in general. I would be tickled pink if y'all checked out my lil' corner of the blogosphere, and I hope you enjoy!


Check out a few of the creations I LOVE from Sarah... like these iPod Valentines candy! SO CUTE!


And this Flat Iron Cozy is ADORABLE and she even shows you how to make your own!


Ok, I know Christmas is over, but I LOVE this Advent Calendar she made... it's going on my to-do list so I can have one for next year!


These Cupcakes in a Jar are a great gift any time of the year... like one of those "Just Because" gifts :)


And, Mmmmmm, a Nutella Hot Chocolate recipe... Great for all this chilly weather!



So be sure to check out Scissors and a Whisk! And click that follow button while you're there... you know you want to! Because that's the best way to find out what AMAZING creations Sarah's going to come up with next :)


Now for today's Spotlight Sunday Bloghop...




Add your blog to the list! Be sure to check out other blogs and leave them some comments or even become a new follower! (We all love comments and new followers right?)

Please....

Be sure to

add the

button

to your blog so others can join in on the fun!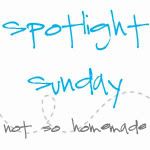 Want to add the blog hop to your blog?