Ok, so I'm so excited for you guys to meet Becky from Mrs. Bettie Rocker. She is one of my favorite cooking blogs out there and I was SO ecstatic when she agreed to guest post today! So everyone meet... Mrs. Bettie Rocker!



Hello fans of Not So Homemade! I was so excited when Courtney invited to say hi to you guys for the day =) I can't wait to "meet" you all!

(I decided to use a silly little cell phone pic from my big night out with my husband Friday night. I'm still nerdy from it.)
So. This is me in a nutshell: I'm a wife, and a mom, and I rock. I spend as much time in the kitchen as possible. I like tattoos, vintage things and books. I hate talking about myself. I love aprons. And skulls. And aprons with skulls. My happy place is in my kitchen. It's the only thing in the house that's totally mine and free of stinky boys! You'll find me hiding out in there a little bit every day.
My blog is FULL of recipes, sprinkled with tales of motherhood, surviving Postpartum Depression, and my struggle to accept the fact that I am no longer as cool as I used to be.
As the lone vegetarian in the house, there is one thing I make that we can all enjoy together, and that is sweets. Sweet are my WEAKNESS in life. Always has been =)
Meet my family!

This is Jackson. He is 4 and he's my right hand man in the kitchen.

This is Nathan. He is 14 months and likes to wear cake pans as hats.
That's me and my hubs. We are celebrating our wedding anniversary on Tuesday!

I know, I know. These cupcakes aren't family. But I'm trying to build a small home based business of custom sweets. These were for a wedding reception I did this summer. I sort of loved them.
I'm a little bit rock, and I lot domestic.

I'm owning it =)
__________________________________________________________________________________________

Don't those cupcakes look amazing? Here's a few other recipes that I kinda have a crush on :)

I don't even think I have to talk about these burgers... just look at the photo... LOVE.


I've never had risotto before, but this recipe has got me itching to try it!


Mmmmm..... ribs :)



Be sure to head on over to Mrs. Bettie Rocker to find more AMAZING recipes. And I have a special treat for you guys... Becky is going to be guest posting for this week's What's Cooking Wednesday! So EXCITED! So be sure to keep an eye out for that :)



Now for today's Spotlight Sunday Bloghop...




Add your blog to the list! Be sure to check out other blogs and leave them some comments or even become a new follower! (We all love comments and new followers right?)

Please....

Be sure to

add the

button

to your blog so others can join in on the fun!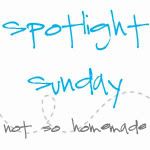 Want to add the blog hop to your blog?