I know what you're thinking... yes, it has been a REALLY LONG time since I've been able to do one of these. With school and the holidays, it kind of just got pushed to the side. Well fret no more! Because Spotlight Sunday is BACK and better than ever! Because I've got some great people coming up for you to meet!

Would YOU be interested in being spotlighted on Spotlight Sunday? Shoot me an email at

notsohomemade@gmail.com





Well, today I thought I'd highlight my mom's etsy shop,

Just 4 Fun Jewelry

. It's been a while since I've posted about it and I love to brag on el madre (aka my mom)!

A while back, my mom was dealing with a lot of stress as her baby boy (my brother) graduated from high school and moved out. So she decided to pick up a hobby. And that hobby was

jewelry making

! And she is

really

good! I mean, I could never pick this up. I'm not coordinated enough, nor do I have the eye for it. She mostly started out making earrings, but has expanded to all types of jewelry. She mostly just sells to her coworkers and friends but I decided to help her expand a bit and started an etsy shop for her.

She is also a

savvy shopper

and gets

good

deals so she can sell her jewelry at

SUPER cheap prices

! A lot of her jewelry is made using Swarovski crystals and pearls, and freshwater pearls. She sells her earrings for mere

DOLLARS

and the necklaces for not that much either. I don't have many necklaces listed on the etsy site, but I'm hoping to expand more soon!

Everything comes packaged in

SUPER CUTE

drawstring bags. I can usually ship them out pretty quick too! Just not on Sundays, because, you know, the post office isn't open on Sundays. Yea.

She can also do

custom orders

if you have something in mind that you want. Just send us a message on etsy or shoot us an email at

notsohomemade@gmail.com

and tell us what you are wanting and she can let you know if that's something she can work up! We can even email progress photos to you to help you get the best out of your design!

Check out some of the things my mom has to offer:


So be sure to head on over to her etsy shop,

Just 4 Fun Jewelry

and check it out!





Now for today's Spotlight Sunday BLOPHOP!

Here's a quick refresher on how it works (since it's been a LONG while!):


Add your blog to the list! Be sure to check out other blogs and leave them some comments or even become a new follower! (We all love comments and new followers right?)

Please....

Be sure to

add the

button

to your blog so others can join in on the fun!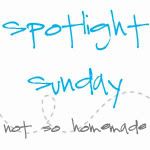 Want to add the blog hop to your blog?