It's SUNDAY! And that means another great week of Spotlight Sunday! And this week, I am so excited for you guys to meet Amie from Kitty Cats & Airplanes!

*************************

Hello Not so Homemade readers! I am honored that Courtney has invited me as her spotlight for today, I adore her blog! And man, is she super talented. She made over my blog and I LOVE it! Being here is pretty much equivalent to being invited into a celebrities house!

I'm Amie, and I'm the girl behind the blog Kitty Cats and Airplanes. Why the weird name? Well, because I have an obsession with cats and my husband and I met on an airplane. :) (Interested in "the whole story?" Click here.) We live in Maryland. He's an accountant and I'm a teacher.


When I graduated college my hubby was still in school, and without a full time job I suddenly had A LOT of extra time on my hands! I started stalking craft blogs, and rediscovered my love for all things crafty. My family blog started getting clogged with crafts, and in September Kitty Cats and Airplanes was born! Creating is my outlet, and I love to share with others! My craftiness is all over the place, I love creating is every form!


Cooking (hearty beef stew.)


Making jewelry (button bracelet)


Sewing (black lace skirt)


Glue gunning (button frame)


Grown up hair stuff (lace bow)


Computer graphics (funny printable)

And a whole lot more! I have such seriously crafting ADD, you never know what will come up next! I also have an Esty shop where I sell all the lovely items that I will never have time to wear. Like this!


Snowman pearl set.

So come on over. Check out Kitty Cats and Airplanes. I'd love to have you! And thanks for inviting me here today Courtney. :)


**********************

Amie is SO SUPER TALENTED! I love to check out her latest creations!

Like this Lace Pearl Necklace... GORGEOUS!



Learn to make your own HOMEMADE tortilla chips! I am SO going to try this! I L.O.V.E. anything mexican and I wish I could make homemade chips like the restaurants do... SO YUMMY :)



She also shows you how can make your very own Upcycled Garland Necklace...


Which she made for me... and I LOVE! Here's mine :)



And she made me this vintage hairpiece...


And this ADORABLE flower headband!



So be sure to head on over to Kitty Cats and Airplanes where you can learn to make

cute

and

amazing

stuff of your own! And don't forget about her etsy shop where you can get some

beautiful

and totally

affordable

jewelry!




Now for today's Spotlight Sunday Bloghop...




Add your blog to the list! Be sure to check out other blogs and leave them some comments or even become a new follower! (We all love comments and new followers right?)

Please....

Be sure to

add the

button

to your blog so others can join in on the fun!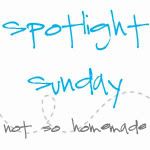 Want to add the blog hop to your blog?