Hey everyone! I'm a little late getting this up... been running all day! But it's still Sunday and that means another great Spotlight Sunday. This week I'd like you to meet Laura over at Ms. Smartie Pants! I had the privilege of meeting Laura through helping her out with a blog design and I fell in love with her blog and amazingly crafty and creative ideas! So without further ado, meet Laura!
Hey everybody I am happy to be here hanging out on notsohomemade with you today. Courtney offered to spotlight my blog on her blog! Such a sweet thing, thanks Courtney.
My real name is Laura and I live in Texas with my husband. We have 4 children 2 of which live at home. I work part time at a church as the Childrens Director, a job that I love! Creating, crafting and decorating is kinda like the glue that holds my life together. Let me introduce you to my blog....
First I always feel like I have to explain my name as I did not give myself that title. My husband did! On occasion my husband will be stumped and can't figure something out so he will come in
complaining
I mean conversing about his project and his problem and I will throw out an idea...that usually works and so he has officially (in his eyes) claimed me as Ms Smartie Pants! (Why do I feel like I am being vain when I go by this name. It is not my intention!)
I want to tell you that I absolutely LOVE blog land. It was made for me and I don't know how I EVER lived without it. It's like I have thousands of friend's in my home creating with me, something I have always wanted! I have piddled and made stuff for as long as I can remember in just about every medium, and I have the junk to prove it! I also LOVE to decorate houses! Being inspired by others ideas and sharing mine just makes me happy! I didn't know a thing about blogging until this time last year. It did not take me long to throw in my hat and give her a try. I made a goal if I stayed with it for 6 months that I would get someone to create a cute little blog for me, thank you Courtney! I got lots of great ideas and plans to open an Etsy store in the next few weeks. I hope you will stop by often to see what I am up to. Currently I am helping my wonderful niece decorate her brand new fabulous and spacious home. Check out some of the pics!
Her bathroom, swoon!
Dining area, love this wall!
Bedroom, so relaxing.
Den is just fun!
So I invite you to come on over, kick off your shoes, snuggle in a warm blanket, get your favorite drink and sit and look around awhile. I hope you like what you see and come back often!
**************************************************
Um, want to come decorate for me, Laura?

Isn't she talented? Check out a few other things she's created:



She also made these AMAZING hair flowers for me and I LOVE them! I wear them every chance I get!


So be sure to head on over to Ms. Smartie Pants and check out more great stuff from her!


Now for today's Spotlight Sunday Bloghop...




Add your blog to the list! Be sure to check out other blogs and leave them some comments or even become a new follower! (We all love comments and new followers right?)

Please....

Be sure to

add the

button

to your blog so others can join in on the fun!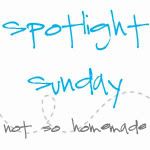 Want to add the blog hop to your blog?