So, I realized that I don't really share much about myself. So I decided to dedicate a post, once a week, to letting you guys know a little about me...

Meet Me Monday

:)


And I thought I'd start out with the fact that I'm a

horrible

speller. I'm serious! If it weren't for spell check and auto correct, you guys would have one jumbled mess of words. People would be doubting my college degree.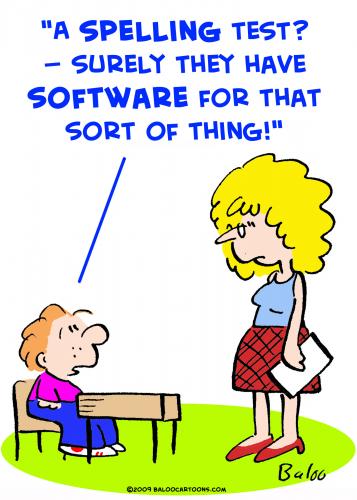 I'm pretty sure my first

B

in school was when I was in 4th or 5th grade. In

Spelling

. I can remember sitting in a desk on the right hand side of the room, right next to the wall. Our teacher handed out report cards. And there it was. That

horrible

,

heart-wrenching

,

devastating

(for the record, I just misspelled this word.

devisiating

. yep.) letter. I got a

*gulp*

B. I remember putting my head down in my arms on my desk and crying. I was a

straight A

student. This didn't happen to me! So I officially

blame

all subsequent

(ooh got that one right!)

Bs (and Cs- but never any Ds or Fs!)

on report cards to

Spelling

.

Thanks a bunch Spelling.

It's all your fault!





I mean, I've gotten ok over the years, but there's still a few words I misspell.

My top 2 misspelled words are:






definately

- correct spelling is

definitely

. But my phone auto correct now recognizes it as

definately

:)



suppossed

- correct spelling is

supossed

. No, wait, it's

supposed

. There. Got it.


When I decided to write on this, I was

SUPPOSED

to write down more words because there are

DEFINITELY

more that I misspell. But I forget :)




I won't lie, I looked at the correct spellings above to write that sentence...





Alright, so what I want to know is.... are

YOU

a good speller? What words to you commonly misspell?