I know, I know... I'm really late getting this out. But it's still Wednesday. So I'm doing good.

For today I have for you... drumroll please... Pumpkin Pie... from scratch.

I know what you're thinking. *gasp* "You made a pumpkin pie... from scratch?" Why, yes. Yes I did. And it took a stinkin' long time too! While this was a good experience and all, frankly I don't have the time to do this often. And I made a huge mess in the process. So I'll stick with good ol' canned pumpkin, throw it in a frozen pie crust, kind.

Anyways, I'll still share my process for any overachievers out there who want to try it. Because besides taking a long time and being a big mess, it was really good!

First get a pumpkin. I originally got this one to carve but then I thought, "Carve it, it looks cute until it rots. OR. Cook it and it's yummy in my tummy." Cooking won.


I cut off the top, scooped out the seeds, cut it in half, and then finished removing the stringy gunk. I found scraping with a metal spoon worked really well.


See... nice pile of seeds and pumpkin snot. I know what some of you are thinking. "Courtney! You didn't throw away a perfectly good pile of pumpkin seeds did you?" ... I'll tell ya about that in a minute ;)


So then I cut up all of the pumpkin (man it was tough!) and placed it in (multiple) pots with about an inch of water in each. Then let it steam away until it gets nice and soft (this will take a while. If I remember right it was like 45 min to an hour).


So meanwhile, remember those pumpkin seeds? I washed them...


And then placed them in one layer on a pan coated in oil then sprinkled with salt. Simple. Yum.


Toast at about 350 or so until golden delicious.


Ok now that our pumpkin is nice and soft we're ready to continue :)


Let it cool before you mess with it. Or if you're stubborn and impatient like me, you can just burn your fingers ;) Then peel the skin off (it comes right off most of the time but you may need to use a knife or something). Once it's peeled, place in a food processor.


Blend until smooth.


Now it's really watery so you'll need to strain it. If you have a cool sieve you can use that or do it the rigged up way and use coffee filters like me. I placed a strainer basket over a pot and lined it with coffee filters. Then top with the pumpkin. Some sites recommend you let it sit in the fridge overnight. Which is probably best. But you know me. I'm impatient. So I covered it with saran wrap and started mashing down to drain the water. I won't show you a picture. It was a scary site. But it worked.


See... much less watery now!


Now you make your pumpkin pie! I used this recipe HERE. I didn't have any ginger, though, so I added more brown sugar and cinnamon. Don't know if that's an adequate substitute but it worked! Looks yummy already!


I guess the recipe is for 2 pies or something. So we used the leftovers to make mini pumpkin tart pies. Basically just lined muffin tins and pressed the dough inside. Then filled with pumpkin stuff.


The mini-tarts finished first.... mmm.. These were my mom's favorite! Just a perfect little taste :)


It's time for your close up...


Then finally the pumpkin pie finished...


Oh so good!


And personally I like pumpkin pie warm or cold!


And especially warm with some whipped cream!






Ok, now let's see what you've been cooking! Can't wait!

First, a few favorites from last week! We had 13 amazing recipes link up!


Ok so breakfast burritos... LOVE THEM! But I don't have time to make them every morning. Fear not! Kristin at Betty Crocker Wannabe shows us how to make Super Simple Frozen Breakfast Burritos! Make them, freeze them, unwrap them when you want to eat them! I'm SO going to have to do this!


Petra, at Donuts2Crumpets, shows us how to make a super simple Swiss Chicken dinner! It's really easy to make and doesn't require that many ingredients. You can bet it's going on my menu soon!


Ok, I'm not a real big Snickers fan, but I HAVE to try these cupcakes! Just look at the photo! Makes you start drooling a little, huh? Julie at The Farm Girl, shares with us a YUMMY looking recipe for Snickers Cupcakes! Be sure to check it out!




There are SO MANY great recipes! I wish I could've listed them all! See the rest HERE!



Ok, so on to today's linky!

"Hey good-looking... Whatcha got cooking?"


Add as many recipes as you'd like! Look for featured ones next week too! Yours could be a favorite!


Grab a button and share with others!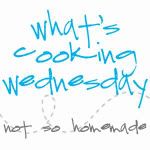 Whew! Finally finished! I think this took me like an hour to write an put together!