of the Aunt Peg's Jewelry Giveaway...
for this GORGEOUS Charm Necklace...




is...


Random Generator, show us a winner!




So just who is the lucky comment number 7?





My good friend Nic from Mrs. Lavespere! I'll be getting in touch with you and sending your info to the good folks at Aunt Peg's Jewelry!



Thanks to everyone who entered!


Be sure to visit the Aunt Peg's Jewelry etsy shop to find more great items!

And the Aunt Peg's Jewelry blog for more great tips and tutorials!

And the Aunt Peg's Recipe Box blog for the YUMMIEST recipes!

And the Sister Sally's blog for more great crafty ideas!




Alright! Now for today's Spotlight Sunday Bloghop!


Add your blog to the list! Be sure to check out other blogs and leave them some comments or even become a new follower! (We all love comments and new followers right?)


Please....

Be sure to add the

button to your blog so others can join in on the fun!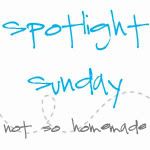 Want to add the blog hop to your blog?