I recently entered a blog header design contest that was hosted by Marni over at Sassy Sites... and guess what?



I WON!



Exciting right?

I won a 3 month sponsor spot on her blog that comes with all kinds of perks!

Including... a

SPOTLIGHT

:)


So head over there today because I'm being

SPOTLIGHTED

! You'll

LOVE

her blog! And... you can check out the new design she'll be using HERE.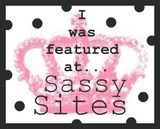 I'm so

EXCITED

! Thanks for featuring me Marni!