Well, my Spotlight I had lined up didn't work out like I had planned. I'm kinda bummed. Hopefully I'll have someone next week. Would YOU like to be featured? An ENTIRE post dedicated to Y.O.U.! Shoot me an email at

notsohomemade@gmail.com

:)

Anyways, I'm going to mini-feature EVERYONE from the last blog hop (2 weeks ago since I missed last week).

This is A LOT of blogs... so get ready :)


1. My friend Nichole at Mrs. Lavespere made these cute bathroom signs for her work. I got to see them in person too and they were super cute :)


2. Steph at Steph's Creative Life makes some really cute jewelry. I love these earrings she recently posted! Check them out:


3. Jenna at The Frozen North recently made a decorated pumpkin... out of DUCT TAPE! That's right... I said duct tape! And it is SO cute!


4. Page at Thrifty, Nifty, and Wise has a to-die-for chocolate recipe! Really... it's called Death By Chocolate. And I love my chocolate :) Just look at this picture:



5. I love reading about K, from Big K Little A, and her Post It Notes posts... They are too funny! This one I relate to. When my brother was still at home, I swear him and my dad tried to see who can snore louder!


6. Karen at Pocket Full of Pink recycled an old juice can to make an adorable Halloween treat jar. I love that she turned something ordinary into something extraordinary and functional!


7. Christi over at More Then a Momma (who was also my most recent blog design giveaway winner) has a fun new look for Halloween... Love the header :)


8. Andrea at Keepin it Thrifty turned a boring old jar into a CUTE storage container for her glue sticks! I need this... we're always searching through drawers to find glue sticks.


9. Renee, from Om... And Then Some, posted some creative ways to get her picky kids to eat... You'll LOVE her ideas! Check one out using muffin tins:


10. Hannah at Young and Crafty decorated a pumpkin using Mod-Podge and scrapbook paper! What a creative and AMAZINGLY CUTE idea!


11. Suzy at Joy is at Home turned an old cabinet door into a BEAUTIFUL work of ART! It is so gorgeous! I really want to make one myself now!


12. Over at The Mama Report, she's, like, a SUPER shopper! Seriously! She got all of this for a mere $22.69! A savings of $44.50! Amazing isn't it?




Alright, I hope you enjoyed all that and found some GREAT blogs!


Now on to today's Blog Hop!



Add your blog to the list! Be sure to check out other blogs and leave them some comments or even become a new follower! (We all love comments and new followers right?)


Please....

Be sure to add the

NEW

button to your blog so others can join in on the fun!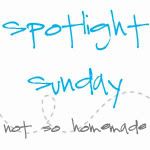 Want to add the blog hop to your blog?